About Us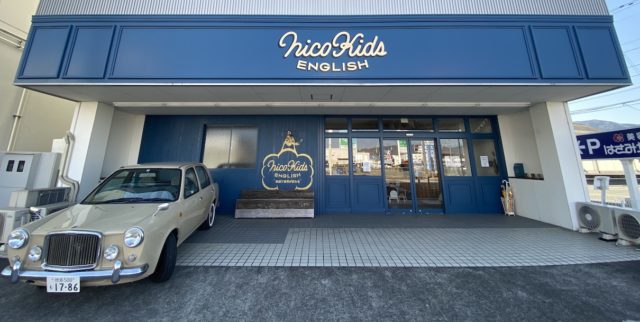 Nico Kids English is a quickly growing and expanding English school with about 300 students in two locations in Tokushima prefecture on the island of Shikoku in Japan.
In November 2021, we are opening a new location in Setagaya, Tokyo!
We specialize in fun and exciting, student-centered English lessons for students ranging in ages from 3 years old to 12 years old students.
Our curriculum has proven to be very effective and shows very fast results for most students.
A handful of lessons for jr. high school, high school, and adults students are also available in the evenings.
Our Mission
We are more than just an English school.
We are a close community helping our students achieve 3 key goals to have a successful, happy and meaningful future, which can help them find something they would love and enjoy in their later years.
Communication – being able to express their emotions and opinions, via English as a tool, can promote their connection with other people and cultures.
Challenge- by creating a safe environment, students can make take advantage of their mistakes to help them propel themselves to achieve more
Independence- as a school, we try to give each student some creative space so that they can use their imaginations not only to remember English but to build on their own personalities.
Future Goals/On-Going Projects
Creating our own coursebook and selling it worldwide.
Developing an App for teaching in class and studying English for kids at home.
Providing an iPad for each student in class so that students can learn an important skill in this technological era.
Our Team

Let us introduce you to our fun, friendly, positive, creative, motivated … (I probably should stop, hahaha) team members!
Junpei – Owner

The founder of Nico Kids English.
He has a great passion for music and played in a death metal band. Deciding to change career path, after traveling to the US, and created his own school at the age of 24.
An enthusiastic marketing consultant, researching, and traveling to other schools.
You can find his informative Youtube channel for Marketing below
→https://www.youtube.com/channel/UCuK8STNLac3w5XIfjLSBCsg/videos
May – Teacher

A Japanese English teacher who used to work as a TV announcer has a silver tongue and adored by our students. She would also beat you in an eating competition hands down!
Dora – Teacher/Teacher Trainer
A hungarian teacher who is excited all the time without the need for coffee.
Sakiko – CRM

Our Japanese CRM, who used to live in Canada, will help you connect with the parents and students.
Justin – Teacher
A British teacher, who is a professional pianist with humorous drawings that the kids either love or hate.
Ayano – Social Media Expert/Teacher

A Japanese Social Media Expert and teacher, who has lived in Australia. She loves to sing, play with kids, and dance.
We Make Your Ideas Come True:
Have you been feeling that English schools in Japan, has not made it easy to give your opinions or to implement them?

We, as a school that is still growing and broadening our horizons, we are eager to accept new ways of thinking and ideas and try our best to bring them to reality.
(You would be surprised how quickly your ideas would be implemented!)
Here are things that we've started doing from our employee's ideas,
Point system to get students motivated even more.
Using a projector in class
Creating a new curriculum
Halloween USJ Bus Tour, Summer Camp, Pajama Party, and some other events.
Homework checking list
There are too many to list, but you can let your skill shine at our school!

We help you gain your skills and the school will help with getting a TESOL certificate or other qualifications to help you exceed in your role.
Job Description:
Part-Time Teaching Position (Eventually Full-time from Feburay or March 2022)
Teaching mainly students ages 3 to 12 years old student-centered English lessons and few teenager lessons.
Teacher will be responsible for:
preparation for lessons
student management
talking to the parents after every lesson – A lot of our current teachers find it fulfilling because the parents can tell the teachers stories like, "Oh my kid was able to speak with a foreign person when we were sitting next to her on the train, I was very impressed with the progress of my kid, thank you!)
(don't worry a Japanese speaking staff member will be with you)
trial lesson
Lesson plans are pre-made with monthly training sessions on how to deliver the lesson.
So everything is ready to give a high-quality lesson, at the same time you have some freedom to add your own stuff to meet your students' needs (yes, because every kid is different!)
Example of Lesson Plan

Every activity has a video where the author of the course teaches it in action.
Work Hours

About 2 to 3 50-minute lessons a day, 2-3 days a week. Work hours sometimes fluctuate due to special circumstances, but typical class hours will be between 14:00 ~ 20:00 on weekdays and 8:30 ~ 17:00 on Saturdays.
Working days will be Tuesdays, Thursdays, Fridays, or Saturdays (required – the most popular day from parents)
We are closed on Mondays and We have a teacher on Wednesdays already.

Holidays (applicable when full-time)

Golden Week 5 Days
Summer Holiday 10 Days (14 Days of a long holiday including regular Sun&Mon days off)
New Year's Holiday 10 Days (14 Days of a long holiday including regular Sun&Mon days off)
*The school is still open during some national holidays.

Bonus

Every May (Working after 1 year)
〔There is a case of paying no bonus according to the company's performance.〕

Special EventsNico Kids English holds several special events during the year such as holiday parties and a two-day summer camp. Some special events are occasionally scheduled on Sunday.
Please take a look at some of our fun and exciting events here
Location
A few places in Setagaya (二子玉川 – Futakotamagawa, 用賀 – Youga, and 三軒茶屋 – Sangenjyaya) are picked, it will be decided at the end of September.

The ideal candidate will:
be outgoing and cheerful.
be motivated and independent.
be able to learn new activities quickly.
be flexible and able to adapt quickly.
be a team player.
loves challenge since it's a new location.
The position is available for immediate start.
When you send us a message or resume,
Please let us know why you are interested in the position at Nico Kids English and your available date to start.
What did you think about after taking a look at our website or any videos posted by us?
Please start your cover letter with your favorite joke.
Visit us online to get an idea of our school environment and culture:
Main Website: www.nicokids.jp
Online Lesson Website: www.nicokids.jp/online
Instagram: https://www.instagram.com/nicokids.english/
Facebook: www.facebook.com/nicokids.jp
Youtube: Nico Kids English on youtube
About Tokushima where Nico Kids English is in (hiring in Tokushima locations, as well) :
15 Best Things to Do in Tokushima Discover Tokushima
We are very much looking forward to hearing from you!
Thank you very much for reading.
Best regards,
Nico Kids English